Rock Creek Abda (Abbie)
NA Prize 1 UT Prize 1
Owner : Joel Kelly
Rock Creek First Lady (Lady)
NA Prize 3
 Test d'aptitudes naturelles - Pass
2008
Concours St.Hubert de la Manche
Owner: Didier Lengronne
Normandy, France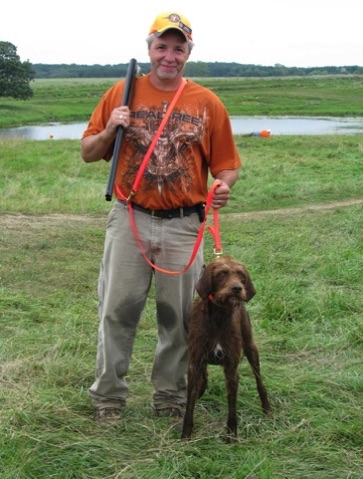 VC Rock Creek Liberty
NA Prize 3 UT Prize 1
Versatile Champion
IT 191 Points Pass
Owner: Jeff House
VC Rock Creek Unleashed
NA Prize 1 UT Prize 1
Versatile Champion
IT   188 Points Pass
Owner: Ed Nuzum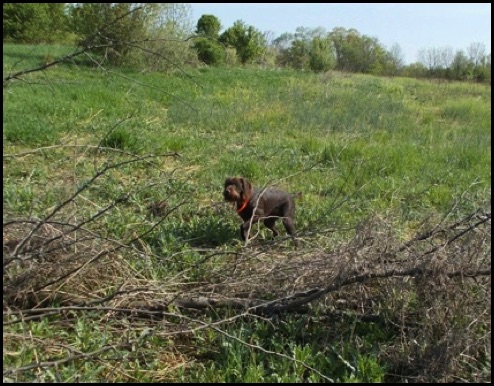 VC Rock Creek Violet
NA Prize 1 UT Prize 1
Versatile Champion
IT 197 Points Pass
Owner: Mark Olcott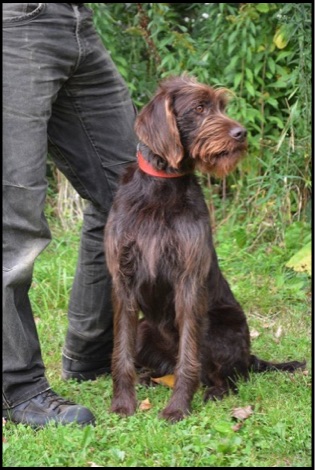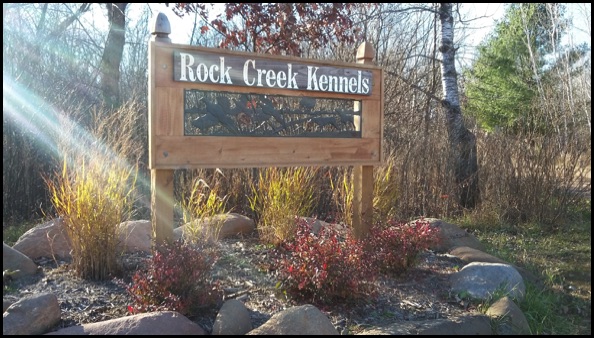 We would like to thank everyone that has put forth the effort to test their Rock Creek Pudelpointers. You are the link to the past, present, and future success of the pudelpointer breed.
Our past practice of listing names and photos of owners as acknowledgment for testing is just too overwhelming given the volume of successfully NAVHDA qualified Rock Creek dogs over the years.
Moving forward we will post highlights from previous testing years starting with 2017. Some photos are added of dogs that have reached the highest level in NAVHDA events and a few dogs that we have certain family memories of.
Soon, these pictures will fade and be replaced with new ones, but the owners and their dogs will never fade from our memory or our kennel history.
Our dog owners are the best clients any kennel could ask for and we are indebted to you for your commitment to the breed and our success.
Rock Creek Kennel has been honored with 29 NAVHDA Breeders Awards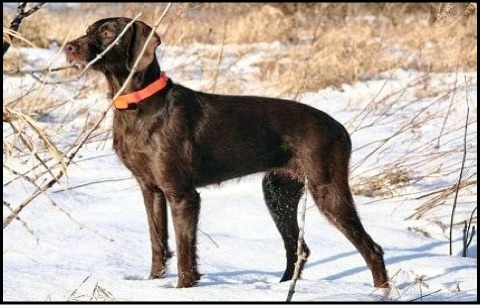 Rock Creek Walk the Line (Otto)
NA Prize 1 UT Prize 1
Owner: Mark Ninnemann
Rock Creek Americano (Matylda)
Czech NA PZ 1, 220 Points
CACT Award
Owner: Jiri Blazek
Czech Republic
Rock Creek Copenhagen
NA Prize 1 UT Prize 2
Owner: Tracy Hackney
Rock Creek Waterbiscuit
NA Prize 1 UT Prize 2
Owner: Kim Piedt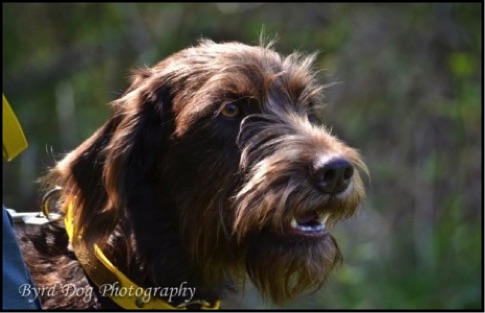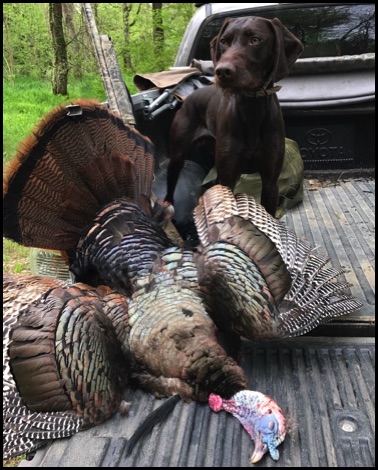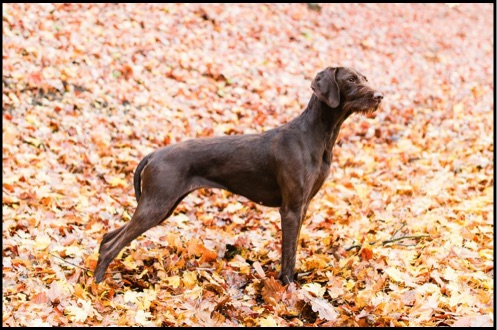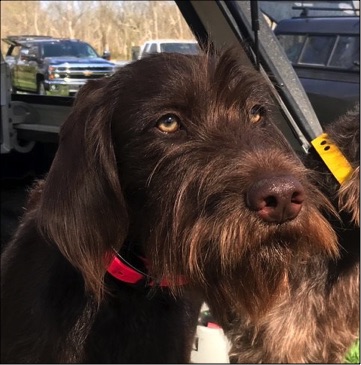 Rock Creek No Nonsense
NA Prize 1 UT Prize 1
Owner: Ed Nuzum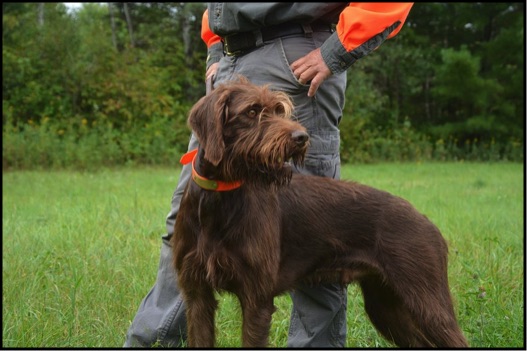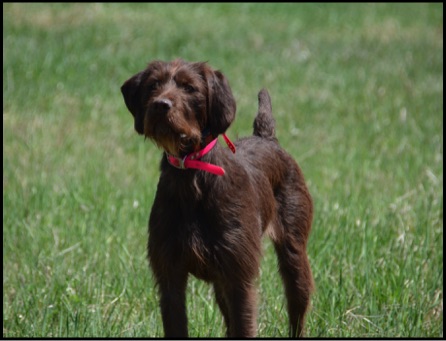 Rock Creek Memphis
NA Prize 3 UT Prize 2
Owner: Steve Mosey
Rock Creek Stella's Sunrise
NA Prize 1
Owner: Mike Krause
Please visit navhda.org for over 150 results of Rock Creek Pudelpointers tested NA, UPT, UT and IT. prior to 2017.
Rock Creek Pudelpointers NAVHDA testing Achievements for 2018
21 Pups Qualified in Natural Ability Tests
14 receiving a NA Prize 1
2 Dogs Qualified in Utility Tests
3 Breeders Awards
Rock Creek Pudelpointers NAVHDA Testing Acheivements for 2019
49 Pups Qualified in Natural Ability Tests
22 receiving a NA Prize 1
8 Dogs Qualified in Utility Tests
2 Qualified for the 2020 Invitational
Rock Creek Edmund Fitzgerald, UT Prize 1, 198 points (Erin Kalpin)
Rock Creek Delta Dawn, UT Prize 1, 198 points (RCK)
7 Breeders Awards
Rock Creek Jethro sired 2019 VC Surrey Bird Azul
Rock Creek Pudelpointers NAVHDA Testing Acheivements for 2020
40 Pups Qualified in Natural Ability Tests
26 receiving a NA Prize 1
11 Dogs Qualified in Utility Tests
7 Qualified for the 2021 Invitational
Rock Creek No Nonsense, UT Prize 1, 204 points (Ed Nuzum)
Rock Creek Little Joe, UT Prize 1, 202 points (Mike Ladwig)
Rock Creek Jotul, UT Prize 1, 202 points (Sean Ewaldt)
Rock Creek Fern, UT Prize 1, 199 points (Dennis Beste)
Rock Creek Leif, UT Prize 1, 198 points (Erin Kalpin)
Rock Creek Edmund Fitzgerald UT Prize 1 (Erin Kalpin) 2020 Covid
Rock Creek Delta Dawn UT Prize 1 (RCK) 2020 Covid
3 Breeders Awards
Rock Creek Jethro Sired his 12th- lifetime NAVHDA Breeders Award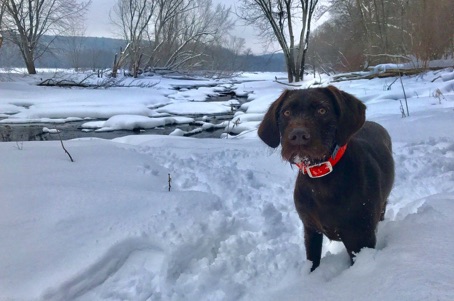 Rock Creek Jotul
NA Prize 3 UT Prize 1
Owner: Sean Ewaldt
Rock Creek Pudelpointers NAVHDA testing achievements for 2017
39 Pups Qualified in Natural Ability Tests
18 receiving a NA Prize 1
9 Dogs Qualified in Utility Tests
3 Qualified for the 2018 Invitational
Rock Creek Vintage, UT Prize 1, 201 points (David Hann)
Rock Creek Walk the Line, UT Prize 1, 198 points (Mark Ninnaman)
Rock Creek Edmund Fitzgerald, UT Prize 1, 198 points (RCK)
1 Versatile Champion
VC Rock Creek Violet, IT 197 Pass
6 NAVHDA Breeders Awards