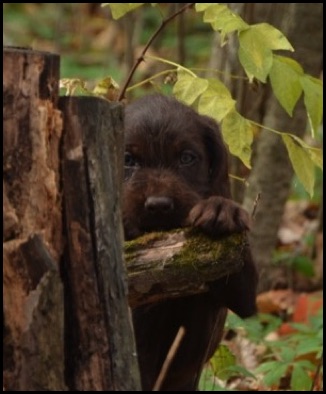 Please read all of the FAQ's prior to contacting us, thank you.
At Rock Creek we breed hunting dogs. We do not sell pets. We do not sell to non-hunting families or as suprise gifts for the hunter in the family. If you do contact us, please have the individual who will be hunting the dog do so.
Since we get such a high volume of calls and e-mails regarding our pups and the dogs in general, it is our hope that we can spend more time in the field and less time addressing these very general questions by posting these answers to FAQ's. We would much prefer to disscuss where, what, and how much you hunt, your desire to join NAVHDA, your current and past experience with versatile dogs, your time frame for a pup, and our waiting list protocol.
We apologize, but we are a family run kennel and we do not schedule planned visits for those who are curious about the breed and we never allow the "we were in the area" visits. Ideally, this site, as well as other sites, visits to local NAVHDA events, and referrals will help with your research and by the time you contact us you will have decided that a pudelpointer is right for you and your family.
Answers to some of your puppy questions:
What age are the puppies allowed to go home with their new owners?
We place pups in their new homes at roughly 8 weeks old. There has been much written about the optimal time for a pup to leave the breeder right down to the exact day they should leave. We do not adhere to that train of thought other than we believe pups should not leave under 7 weeks old. We do not accomodate for those who do hold those ideas of optimal days to be true and exact.
Are the pups vaccinated?
Yes, the pups are given the first of their puppy vaccination series and are on a regular de-worming schedule.
Are tails docked and dew claws removed?
The litter's tails are docked to two-thirds and the dew claws are removed at two to three days old.
Are the dam and sire tested for hip dysplasia?
Yes, both the dam and sire are certified OFA or PennHip.
Can we tell what type of coat a pup will have?
We can tell if the pup's coat will be on the smooth side or rough side close to eight weeks old. Those in between can be a bit more difficult to predict, although we have done very well placing pups close to what individuals would prefer in a coat. Because pudelpointers coats do change over the course of a year and some times throughout their lifetime, we cannot guarantee coats. Again, coats cannot be custom ordered, but we do take your preference to a smoother or rougher coat with given differences in the litter you will receive a pup from.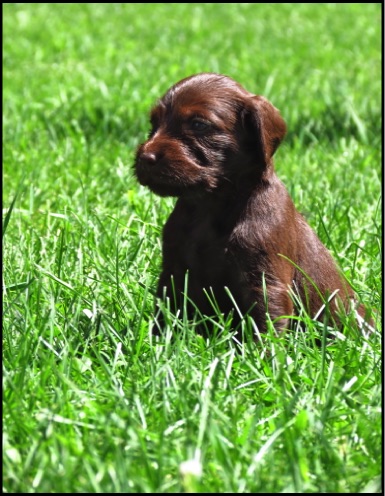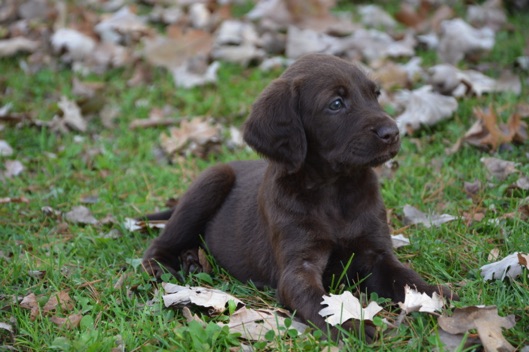 Can pups be shipped by airplane?
We are very experienced shipping pups via air cargo. We have shipped pups to Alaska, Maine, Canada, Texas, and every state in between. We have shipped dogs to Europe and it has never been an issue, has always been safe, and has had no negative affect on the pup. Air Cargo will raise the price of a pup given the flight cost, transport kennel, and the required flight health check.
Do the pups get any training and socialization prior to pick up?
All of our pups are born in our home and at four weeks old are moved with the dam to our kennel office. Our pups are around and interact with adults, adolecence, kids, and our own personal dogs from the time they touch the ground. We place a huge importance on early exposure with litters exploring woods, fields, ponds, butterflies, crickets, and toads. Desensitization to gunfire also starts when they are moved to the office. Weather permitting, we often get an entire litter of pups swimming at six to seven weeks old. Check out all of our Facebook videos and pictures of pups swimming and the exposure they get before going to their new homes.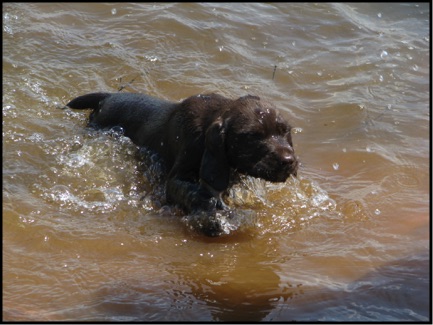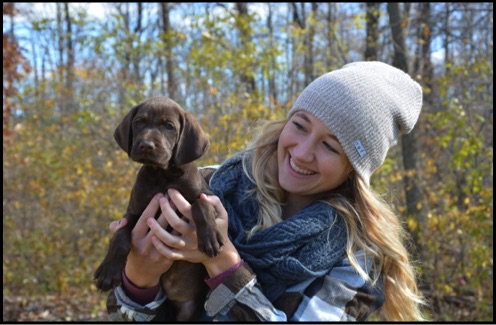 How are the pups from a litter placed with owners? Who gets the "pick" of the litter?
Everyone gets the pick of the litter. No one can determine which pup at eight weeks old will be the "best" dog of the bunch, especially after only spending an hour or so with the litter the day of pick up. Breeders should be breeding for outstanding litters not individual dogs. If there ever is a pup that we ourselves would not take, then that pup will not leave our property. We will place each pup from the litter with the owner giving consideration to coat preference the best we can. Please do not expect to arrive on pick up day and have a litter of six puppies running around that you are going to pick from.
Can you tell how big the pup will be as a adult?
No, the smallest dog in the bunch can often be the largest as an adult and vice versa. Other than males being slightly larger than females as adults, there is no way to predict the size your pup will be.
Can we visit the litter prior to the day of pick up?
We understand your excitement to see your new pup and to share it with your family, but we are very protective of our litters. Pups are very susceptible to many illnesses and we do not allow strangers or strange dogs near our litters. We are protecting your pup as well as everyone elses. Allowing ten families, all who may own other dogs, and allowing visits from those curious about the breed puts your pup at risk for infectious diseases such as parvo. Healthy pups start with the breeder!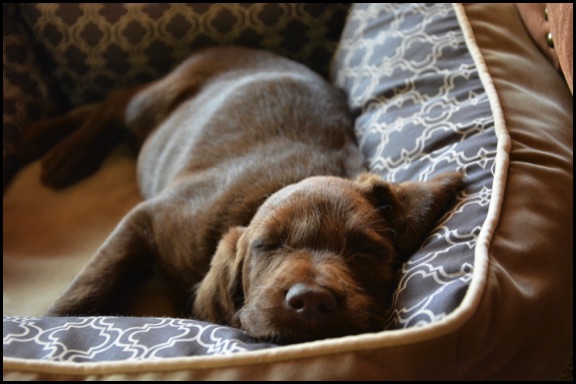 Do your pups have breeding restrictions?
No, we do not sell our pups with breed restrictions unless in the rare case we have dual ownership.
Do the pups come with a guarantee?
We will return your pup for a full refund until the day they turn two years old except in the following conditions:
*If your dog has been neutured or spayed we will not give a refund for the return of a dog.
*Your dog must have run or is still with in the time frame to run in a NAVHDA NA test.
*The dog has been injured, which could affect future use of the dog this includes field/home hazards, sporting injuries, blunt trama injuries or has contracted a preventable or non-preventable infectious disease.
*Gunshyness is nearly always 100% man made. If you use poor training techniques to introduce your pup to gunfire, resulting in a gunshy dog, he will not be returned.
We want owners to be satisfied and happy with their pups, as the pup will carry our name for its entire life. If there are specific questions regarding whether we would return a pup or give a partial refund after two years of age, you need to ask us. You have to feel comfortable with your breeder and trust his integrity just as we will have to trust you would not return a pup that has recovered from a vehicle accident.
What is the price of a pup?
Our current price for a pup is $2,000.00. This does not guarantee that if you are on our list to get a pup, that that price will remain fixed.
How do I get on a waiting list for a pup?
Waiting lists can be very difficult to manage and they can change rapidly when you are dealing with mother nature and extended periods of time. After many years, we finally believe we have a good system to reduce wait times for our pups. Feel free to e-mail and we will advise when the best time would be to call when we are adding names to our list.